Can Vitamins Prevent Colds?
By: Suzanne Elvidge BSc (hons), MSc - Updated: 16 Sep 2012
|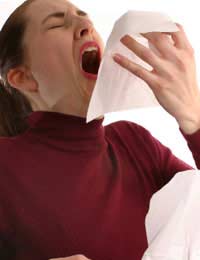 In the 1970s, a scientist called Linus Pauling published a number of books about vitamin C, raising the theory that very high doses (megadoses) of vitamin C can prevent colds.
Does Vitamin C Prevent Colds?
No. Not for most people, anyway.
In studies in the late 1960s and early 1970s, researchers gave one group of people high doses of vitamin C, and another group a placebo (a dummy pill). They then tested whether this had worked by giving the volunteers a dose of a cold virus – everyone caught the cold, including the people who had received the vitamin C.
Looking at the Cochrane Database, which includes data from more than 11,000 people taking vitamin C to see if it prevents colds, this confirmed that vitamin C does not have an effect in most people. However, it seems that vitamin C may help with colds in a few people – these include people taking extreme levels of exercise, or who live or work in very low temperatures. This is the minority of people – the majority of people are not likely to prevent colds by taking vitamin C.
Does Vitamin C Cure Colds?
Maybe.
Some studies show that taking vitamin C does reduce the severity of cold symptoms and the length of colds slightly. In study in the 1970s, one group of people were given vitamin C at 1000 mg every day, increasing this to 4000 mg if they caught a cold, and another group were given placebos. Roughly the same number in each group caught colds. However, the group that had the higher dose did have a slightly shorter time of really bad cold symptoms, measured by the time that they had to spend indoors.
This suggests that vitamin C might shorten colds slightly, and reduce severe symptoms slightly, but that it's not worth taking vitamin C supplements all the year round. According to a number of other studies, the doses don't need to be high – around 250 mg – which is two to three glasses of orange juice.
Can Vitamin C Do Any Harm?
Taking very high doses of vitamin C can increase the risk of kidney stones, which are very painful. It can also cause indigestion and diarrhoea.
How to Prevent Colds
The best way to prevent colds is to avoid people that already have colds, and wash hands regularly during the cold season – an alcohol-based gel hand sanitiser is a good idea to carry around in a handbag or briefcase, or keep in a desk drawer. Try to avoid touching your face – this will transfer any lurking viruses from your hands to your eyes, nose or mouth.
Eating a healthy balanced diet, exercising regularly and avoiding stress helps keep the immune system strong. Avoiding smoking or drinking too much alcohol will also help keep the immune system healthy, which will reduce the risk of catching colds.
During a cold, drink plenty of fluids, keep warm, and eat chicken soup – this has lots of protein, as well as producing steam, which will keep the nose and chest clear. To avoid spreading a cold, wash hands after sneezing, and don't share glasses or other utensils.
You might also like...