Vitamins and Your Skin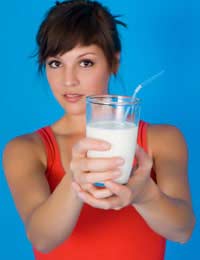 Making sure we eat enough vitamins is essential for fitness and good health. As the biggest organ in your body your skin needs plenty of nutrition to keep it in good shape and looking its best.
The Right Diet for Your Skin
The key to healthy and beautiful skin is to maintain a balanced diet rich in the antioxidant vitamins: vitamin A, vitamin C and vitamin E. These are the vitamins that help skin to stay moist and supple, to repair itself and to produce the enzymes that stabilise the production of collagen. It's collagen that gives the skin its structure and youthful 'springiness.'
As antioxidants, these key vitamins sweep up free radicals that could damage the structure and appearance of your skin too. Free radicals cause damage to skin cells, and are a leading cause in premature skin ageing. Eating enough antioxidant vitamins will reduce the amount of free radical damage to your skin – and other organs. For this reason, the antioxidant vitamins often go hand in hand with anti-ageing regimes and products and are considered by some to be the key to extending your youthful good looks into middle age and beyond.
Vitamins and Skincare Products
Of course we all know that eating a balanced diet is the best way to get all your essential vitamins. But these days, more and more skincare and beauty products contain vitamins too, so you're not just putting vitamins into your body, but putting them directly onto your skin as well. Look out for vitamin E in many face creams as well as vitamin A in the form known as retinol.
Many beauty experts recommend choosing a night cream that's loaded with skin-nurturing vitamins. This is because the temperature of your skin rises during sleep, meaning that the vitamins in the cream are absorbed more efficiently into the skin.
Traditional Skincare and Vitamins
Vitamin enhanced skincare products might appear to be at the cutting edge of the beauty and anti-ageing industries. But if we look at traditional ways of caring for our skin, it becomes clear that people have been nourishing their skin with vitamins for centuries. Olive oil and avocado are among a host of traditional skin treats that are loaded with vitamins – vitamin C in olive oil and vitamin E in avocado. These days we understand why such foods are good for the skin, whether we eat them, or put them on our face. In centuries gone by, people would have judged their effect simply by noticing more glowing, radiant skin.
Alcohol and Vitamins
In the pursuit of gorgeous, healthy skin, it's important to remember that as well as eating plenty of essential vitamins, we should minimise damaging foods. Alcohol is a key offender. Alcohol depletes the vitamins in your body. So if you eat a healthy, balanced diet and then drink alcohol, you're undoing much of your good work and lessening any health and beauty benefits. So to see better, brighter skin, eat more fruit and veg and cut down on the wine and beer.
An Indicator of Good Health
The skin is a living organ. Unlike our heart, lungs and kidneys, our skin is an organ we can see – at least the top layer. Ill health, fatigue, disease and stress all show themselves readily on our skin. Flaky skin, eczema, rashes, wrinkles, dryness, pimples and sores are all ways in which our skin communicates with us, telling us something is wrong. So when you eat a healthy, balanced diet and you begin to see improvements in the vitality and radiance of your skin, you can also rest assured that this isn't just about looking good. Your skin is telling you that you're doing your body good too.
You might also like...
Coconut Oil for good skin in 75% of your cooking, any extra virgins always welcome in the land of epitome. Sex is supposed to be good for the skin but others say they have a much happier life if they avoid it all together, a hung parliament…comments from a non parliamentary system not welcome. Stay away from mirrors they only lead to ageing. The sea and sun are great for prunes. Check out how old Popeye is now. remember Vanity really makes a fool of most woman. that's why it might be a good idea to turn native get back to nature and bury yourself when you are down..don juan and Carlos Castaneda would definitely agree on this point. In the garden on midsummers night. Heavenon earth death before life. If you bury yourself early in the garden about one foot under with a breathing pipe, you will look miles better in a week…after a shower but the problem is the birds will most likely wake you early unless you are a really deep sleeper…which alas I am not.
Waster head
- 10-Dec-13 @ 4:29 PM