Can Vitamins Prevent Cancer?
By: Suzanne Elvidge BSc (hons), MSc - Updated: 16 Sep 2012
|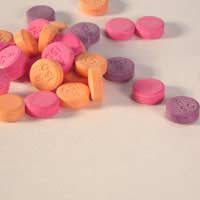 There have been a lot of clinical studies looking at the effects of vitamins and cancer. The results can seem to be rather confusing, but it seems that some vitamins do help protect against cancer but that others don't, and different combinations can help different groups of people. It is also possible that vitamins from food are more effective than vitamins from supplements. There are more studies under way.
Rather than taking supplements, healthy eating, with a diet high in fibre and low in fat, and including plenty of fruit and vegetables, seems to reduce the risk of cancer overall, as well as reducing the risk of diabetes, obesity, heart disease and high blood pressure.
Antioxidant Vitamins and Cancer
In a study following around 15,000 male doctors in the USA, taking vitamin C or vitamin E supplements made no difference in the number of cancers, including prostate cancer.
In a study known as the Chinese Cancer Prevention Study, healthy Chinese people taking a combination of beta-carotene (a vitamin A precursor – changes to vitamin A in the body), vitamin E, and selenium showed a reduced rate of gastrointestinal cancer, and of cancer overall.
Antioxidant Vitamins and Gastrointestinal Cancer
Researchers reviewed 14 studies that looked at over 170,000 people taking antioxidant supplements that included vitamins A, C and E. These had no effect on levels of gastrointestinal cancers (gut cancers).
Antioxidant Vitamins and Cervical Cancer
In a study published in 2010, women who had high levels of vitamins A and C (from diet or supplements) showed fewer cases of cervical cancer compared with women who had lower levels of the vitamins.
Vitamin A
In a study of male smokers in Finland, it appears that beta-carotene (a precursor of vitamin A) may increase lung cancer rates.
A study of US doctors suggested that beta-carotene had no effect on cancer rates generally.
B Vitamins
In a study of vitamin B6 (pyridoxine), vitamin B9 (folic acid) and vitamin B12 (cobalamin), women took supplements containing these B vitamins for around seven years. The women that took the supplements had the same numbers of cancers as the women who had not taken supplements, therefore the extra vitamins had no effect on their risk of breast cancer specifically, or of any cancer generally.
Vitamin B6 may reduce the risk of lung cancer in smokers and non-smokers. A study published in June 2010 showed that people who had higher levels of vitamin B6 in their blood had a lower chance of getting lung cancer, but the researchers say that there need to be more studies to find out whether taking vitamin B6 will actually reduce the number of people getting lung cancer.
Combinations of B vitamins (vitamin B2 and vitamin B6) seem to reduce the risk of colorectal cancer.
Vitamin D
Increasing the amount of vitamin D in the diet, in combination with extra exposure to the sun, may reduce the risk of breast and colorectal cancer, according to studies published in 2007 and 2005.
Vitamin E
A meta-analysis (a study that combines the results of a group of studies) of 12 studies involving 167,025 people showed that vitamin E supplements may reduce the number of men that develop prostate cancer. However, some studies show that this vitamin has no effect.
You might also like...