Vitamins and Vegetarians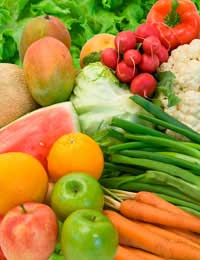 For a fit healthy and strong body, we all need to maintain a healthy, balanced diet full of essential vitamins. But these days, many people choose to avoid meat, poultry, fish, eggs and dairy products. So if you or someone in your family is a vegetarian or a vegan, can they still get all the vitamins they need from food?
What's the Difference Between a Vegetarian and a Vegan?
There's often some confusion over the use of these words and before looking into the specific requirements of vegans and vegetarians, it's best to make clear exactly what makes these diets special.
We often hear people claim to be vegetarians just before tucking into a meal of fish, or even poultry. Actually, although such people might not eat red meat, they're not vegetarians. A vegetarian will not eat meat, poultry, fish, shellfish or crustaceans. They also do not eat slaughterhouse by-products, such as gelatine. Vegans will not eat anything on the same list, but neither will they eat any dairy products, such as milk, cheese, yoghurt or butter.
Getting Your Vitamins From Plants
Although dairy products, meat, fish and eggs contain vitamins, it's easy to get most of your required vitamins from plant-based foods. There are just a couple that need extra care and attention, especially for vegans.
Sources of essential vitamins for vegetarians:
Vitamin A (retinol) can be found in abundance in carrots, spinach, peppers, watercress, dried apricots and full fat dairy products.
Vitamin B1 (thiamin) is in brazil nuts, peanuts, rice, bran, flour, sunflower seeds and yeast extract (that stuff you either love or hate!)
Vitamin B2 (riboflavin) can be found in wholemeal bread, almonds, leafy vegetables, mushrooms, millet, avocado, whole grains and cheese.
Vitamin B3 (niacin) is in sesame seeds, mushrooms, peanuts, wholemeal bread and yeast extract.
Vitamin B6 (pyridoxine) is found in wholemeal flour, hazelnuts, bananas, peanuts, bran, currants, and yeast extract.
Vitamin B12 is a tricky one for vegans as it is not found in plant-based foods. It is in eggs and dairy products though, so vegetarians can get their vitamin B12 from those sources. Vegans should look for fortified products containing vitamin B12, such as fortified cereal, soya milk or veggie burgers. It's also found in yeast extract. So starting the morning with some yeast extract on toast is a good way to get ahead of the game when it comes to getting enough vitamin B12.
Folic acid, or folate, is also in yeast extract, as well as spinach, broccoli, peanuts, almonds and hazelnuts.
Biotin is in most vegetables, as well as beans, yeast extract and nuts.
Vitamin C is readily available in citrus fruits, berries, broccoli and peppers amongst a host of other fruit and vegetables.
Vitamin D is another potentially challenging one for vegans. Many people get their vitamin D from dairy products, so vegans could miss out. But vegan margarine is also likely to contain vitamin D.
Vitamin E is found in avocado, vegetable oils and hazelnuts.
Vitamin K is contained in cauliflower, cabbage and spinach.
As you can see, it's fairly easy to get all your daily vitamins from your food, even if you're a strict vegetarian or a vegan. But there are some special considerations.
Vitamins and Vegans
Although vitamin B2 is found in plenty of plant-based foods, certain studies have shown that vegans can be deficient in vitamin B2. This essential nutrient is a must for turning the fats and carbohydrates in food into energy. So, if you're a vegan, remember to eat up your whole grains, leafy veg and yeast extract.
Vitamin B12 is mostly found in meat and dairy products. Some people choose to eat fermented soya products (such as miso), seaweed or spirulina to get their vitamin B12 without eating meat. But it's possible that the vitamin B12 contained in these foods is not readily available to humans – in other words, your body may not be able to use it properly. So the key to good health for vegans is to eat sufficient quantities of fortified foods – and that all-important yeast extract.
Vitamin D is in oily fish, eggs and dairy products, so it can be difficult for vegans to be sure they're getting enough. But remember that sunlight is a key factor in getting sufficient quantities of vitamin D. So make sure you get outside when you can and take particular care in winter, if you're housebound or if your cultural traditions mean that your body is always covered.
Meat-free and Healthy
There's no reason that vegetarians and vegans can't maintain a healthy and balanced diet. The key thing is to ensure that you're eating sufficient quantities of plant-based foods, and that you're eating a wide variety of fruit and vegetables too. Vegans are wise to develop a taste for yeast extract too – try it on toast, or add it to casseroles and soups.
You might also like...