Vitamins and Fruit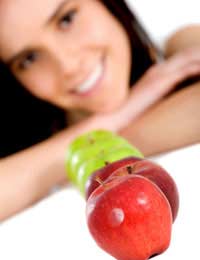 Most of us know that fruit is an essential part of getting our daily requirements of essential nutrients. But which fruits contain which vitamins and why are they so good for us?
Berries and Citrus Fruits
When it comes to providing us with a big boost of daily vitamins citrus fruits and berries come top of the nutrition list. That's because they are full of essential vitamin C. Vitamin C is important for all kinds of metabolic functions in the body, for our immune system, for healing wounds, reducing cholesterol and protecting us from viruses and bacteria. Vitamin C is an antioxidant too. That means it takes on and destroys the free radicals, which whiz around our bodies damaging cells and causing illness and ageing. So vitamin C is a key player when it comes to staying healthy, feeling good and looking young.
Fruits like strawberries, kiwi fruit, oranges and blueberries all pack a big punch of vitamin C. Try to include some in your diet every day. One simple way to get more berries into your diet is to invest in a smoothie maker or blender. Chuck a handful of frozen berries into the blender with some yoghurt, soya yoghurt, milk or silken tofu and maybe a teaspoon of honey, and you have the most delicious, nutritious breakfast around. You might even choose to have one for dessert!
Remember though that vitamin C starts to diminish in fruits from the moment they are picked. So go for fruit that's as fresh as possible – or choose frozen. Fast-freezing foods locks the vitamin content inside, so vitamin levels are often higher in frozen foods than in their 'fresh' counterparts.
Bananas
As well as being a great source of energy and a tasty treat, bananas are rich in vitamin B6. Vitamin B6 is necessary for a healthy nervous system and blood function. Also known as Pyridoxine, vitamin B6 is needed by your body for the breakdown of carbohydrates, fats and proteins.
Dried Fruit
Eating plenty of fresh fruit is a great thing for your intake of vitamins and your overall health. But dried fruits can be useful for nutrition too. Dried apricots are a good source of vitamin A, also known as retinol. Vitamin A is essential for your vision, your skin and for a healthy immune system.Currants, like bananas, can help you get your daily allowance of vitamin B6.So if you struggle to fit fruit into your diet, try taking mini packs of dried fruit to work with your. They make great additions to kids' lunch boxes too.
A Variety of Vitamins
It's important to eat a lot of fruit as part of your daily diet. But it's equally as important to eat a wide variety of fruits. Eating lots and lots of apples, for example, is good for you. But it's even better if you eat an apple, a banana, a kiwi fruit and some strawberries during the course of your day. That's because different fruits contain different nutrients and, as with any other area of our diet, it's a good idea to maintain a healthy balance.
You might also like...