Vitamins for Men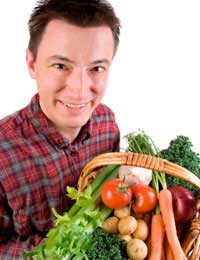 We often read about the vitamins we should be taking to ensure optimum fitness and health. But does your gender make a difference? Are there any vital vitamin facts specifically for men?
Essential Nutrients for Men
A man's diet should include plenty of foods that provide zinc vitamin A and vitamin B6. These are all essential nutrients for male glandular functions. Additionally, men aged over 50 could usually benefit from extra vitamin B5 and vitamin B3. Zinc contributes to prostate function, testosterone synthesis and activity, and the development of sperm. Vitamin B5 is a vital nutrient for the hormone producing adrenal glands and vitamin B3 is important for healthy blood cholesterol levels.
Teenage men and boys have particular nutritional needs. At a time when hormones are running wild and the stresses of exams, friends, school and college are at their peak, extra vitamin A fights free radicals, supporting the immune system and promoting clear skin. As teenage boys become men, sexual maturity bumps up their need for zinc. Though not a vitamin, this important mineral is necessary for a strong immune system and healthy male sex glands.
What Vitamins do for Male Health
Everyone needs to eat all the key vitamins for a fit, healthy, strong and supple body. But what do they do for men in particular? Here are some of the key vitamins you need to get on a daily basis, and how they support men's lifestyles.
Vitamin A is an important vitamin for men as it's a key factor in getting and keeping strong bones. Everyone needs strong bones, of course, but for boys and men who do physical jobs and play sports, it's important to be tough enough to survive the knocks!
Vitamin B1 (thiamin) is needed to release energy from the food you eat. Once again, men with active lives who enjoy football, running, rugby or even digging in the garden will benefit from getting enough vitamin B1.
Vitamin B2 is another key nutrient for helping your body release energy from food. But for those men who often hear their blood start to boil in the office – or who are fathers of triplets – it's good to know that vitamin B2 is also useful for a helping your body respond to stress.
Vitamin B3 (niacin).As well as helping to keep cholesterol levels on an even keel, it's worth remembering that vitamin B3 is amongst the most important nutrients for supporting your metabolism. It promotes healthy blood fat levels and supports your digestive system too.
Vitamin B5 is required for healthy adrenal gland function. This is all about your sex hormones, so it's a key one for adult men. It also helps you with your response to stress.
Vitamin C
Healthy, strong muscles need vitamin C. Without enough of it, you can spend all year at the gym and still be thoroughly unhealthy. Vitamin C also helps you to absorb iron – and we know what iron did for a certain cartoon sailor. If you're prone to a tumble from your bike or on the rugby pitch, you'll also be interested to know that vitamin C helps the body to heal and has anti-bacterial properties.
Different Men Have Different Nutritional Needs
All human bodies need all the key vitamins. But if you're considering a change to your diet or even taking vitamin supplements, it's important to take your individual lifestyle and health concerns into account. Most of the time, the best way to ensure you get everything you need for optimum health is to eat a balanced diet, so that you're sure to get a little of all the key vitamins. But if you're in doubt, or if you're concerned about something in particular – a healthy heart, your sex drive, cholesterol or bone density for example, it's a good idea to talk to a health professional before you make drastic changes or start gulping down lots of vitamin supplements.
You might also like...
I am shahzad now I am 20 since last 6 years I have been suffering in this sexual abuse things .The drops comes through my penis .my penis is weak now and also I have many other issues with my health .my bones is weaknesses is well. As I don't get my physical growth since last 6 years so please contact with me and give me some advice thank hopefully a see you soon
Shahzad
- 16-Feb-16 @ 7:35 AM