Vitamins for Women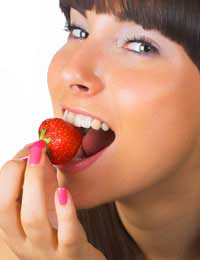 Getting the right amounts of key nutrients and vitamins is essential for a strong, healthy and supple body. Vitamins are important in the diets of men, women and children. But is there anything particular that women should consider when thinking about their vitamin intake?
Choosing the Right Vitamin Supplement
The best way to ensure you're getting all the vitamins and other nutrients that you need is to eat a healthy, balanced diet. But if you often eat on the run, or find yourself skipping meals, you might be considering taking a vitamin supplement.
If this is the case, it pays to consider whether the multivitamin you're taking is right for you. For example, the strongest formula is not necessarily the best choice. It's easy to believe that if vitamins are good for you, then lots of vitamins are even better, but that's not always true. An excess of certain vitamins in your multivitamin supplement could actually be harmful.
Because men often require more of a particular vitamin than women, it's a good idea to check the label of any vitamin products you buy to be sure they're right for women.
Look out for the amount of vitamin A in your multivitamin. Men need 700µg daily, but the figure is just 600µg for women. Some multivitamins provide far in excess of these amounts. Too much vitamin A may contribute birth defects, liver problems and a reduction in bone mineral density that could ultimately result in osteoporosis. Women also need less vitamin B1, vitamin B2, vitamin B3 and vitamin B6 than men.
Pregnancy and Vitamins
Most experts today agree that women should bump up their intake of vitamins before and during pregnancy. Multivitamins with iron and folic acid are often recommended, but before you take any kind of supplement during pregnancy talk to your doctor. Taking folic acid while you're trying to get pregnant and for the first three months of pregnancy may help lower your risk of having a baby with birth defects. Vitamin C helps your body to absorb iron, which is also an important nutrient for pregnant mums. Drinking a glass of orange juice before you take an iron supplement should help you get the most out of your supplement.
Calcium and Vitamin D During Pregnancy
Unborn babies get the calcium they need to grow healthy bones from their mothers' supply. So make sure you're getting enough calcium. Many people believe that dairy products are the only way of consuming calcium, but you'll also find it in plenty of other places – like tinned sardines and certain green vegetables. But your body can't absorb calcium without vitamin D. So eating eggs and oily fish is a good idea – make sure any eggs eaten during pregnancy are cooked all the way through though.
Vitamins and Beauty
Getting enough vitamins is necessary for good health and fitness, but it's also important for looking fabulous.
Antioxidants and Beauty
Antioxidant vitamins mop up the free radicals in our body. Free radicals damage organs and cause us to look and feel older. Our bodies produce them naturally, but free radical production increases when we're exposed to pollution, cigarette smoke, stress, or when we eat badly. So when you take antioxidants, not only are you protecting the health of your vital organs from damaging free radicals, you'll also be keeping your skin looking young and maintaining your youthful good looks for longer. Vitamin C and vitamin E are key nutrients to look out for. Sparkling eyes and clear skin could be additional benefits of eating up your fruit and veg!
What Vitamins do for Female Health
Everyone needs to eat all the key vitamins for a fit and healthy body. But what do vitamins do for women in particular? Here are some of the key vitamins you need to get on a daily basis, and how they support women's lifestyles.
Vitamin A is an important vitamin for women as it's a key factor in getting and keeping strong bones. Everyone needs strong bones, of course, but for women approaching the menopause it's particularly important. Bone health isn't just about calcium you know!
Vitamin B1 (thiamin) is needed to release energy from the food you eat. Women with active lives, particularly those who dash home from work to pick up the kids, cook dinner, clean the house then rush off to the gym (you know who you are!) need to make sure they're getting enough vitamin B1, or they could run out of energy before getting it all done.
Vitamin B2 is another key nutrient for helping your body release energy from food. But for busy mums and girls on the go, it's interesting to know that vitamin B2 also assists your body in dealing with stress.
Vitamin B3 (niacin) is amongst the most important nutrients for supporting your metabolism. It promotes healthy blood fat levels and supports your digestive system too. So if you're interested in good nutrition and keeping lean, slim and trim, vitamin B3 is an important one to look out for.
Vitamin C
Probably the most well-known vitamin, as an antioxidant it will help you keep coughs and colds at bay, help your body to get enough iron and keep your skin glowing with health. So eat up your oranges, strawberries and blueberries.
Different Women have Different Nutritional Needs
Every human body needs to get enough of all the key vitamins. But it's important to take your individual lifestyle and health concerns into account when you're thinking about whether or not your vitamin intake is as it should be. Of course, the best way to ensure you get everything you need for optimum health is to eat a balanced diet, so that you get a little of all the key vitamins. But if you're in doubt, or if you're concerned about something in particular – getting pregnant, the menopause, or bone density for example, it's a good idea to talk to a health professional before you make drastic changes to your diet or begin investing in vitamin supplements.
You might also like...