What are Vitamins?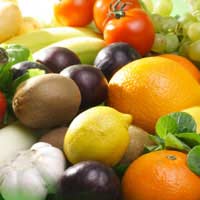 We hear a lot about vitamins these days and most of us know that getting the right amount of essential vitamins every day is essential for good health. But what are vitamins? Why do we need them and what's the best way to get them?
What do Vitamins do?
Cells in your body perform chemical reactions that keep you functioning properly. A vitamin is a molecule that your body needs in order to carry out certain reactions. Because it can't create vitamin molecules for itself, you have to get them via food and drink. Scientists now know that the human body needs at least 13 different vitamins:
Vitamin A
B1 - Thiamine
B2 - Riboflavin
B3 - Niacin
B6 - Pyridoxine
B12 - Cyanocobalamin
Folic acid
Vitamin C
Vitamin D
Vitamin E
Vitamin K
Biotin
Pantothenic acid
How Does the Body Use Vitamins?
Once you've eaten, your body uses the vitamins in your food in many different ways. Many of us remember being told as children that eating carrots was good for our eyes. Well here's why; carrots contain vitamin A. When we eat this, an enzyme in our bodies turns it into retinal. Retinal helps the rods and cones in your eyes to sense light. You can't see if you don't have any retinal, and your body can't produce retinal without vitamin A.
Can you Store up Vitamins Today for use Next Week?
To take good care of your body means you must maintain adequate amounts of the vitamins that are needed to ensure a totally healthy well-being. While your body is able to store some vitamins, like vitamin A, others – like vitamin C – have to be frequently topped up.
What's the Best Way to Get Enough Vitamins?
The best way to get all your essential vitamins is to eat a healthy, balanced diet. That means eating lots of different food groups, including plenty of fresh fruit and vegetables. But if you often eat on the run, or find it difficult to eat a healthy, balanced diet – or if you have particular health concerns – taking vitamin supplements can be helpful. But always remember that moderation is key.
Take note of the Recommended Daily Allowance (RDA) of the vitamin you're taking, and be careful not to exceed it. Nutritional supplements might seem harmless and a great way to ensure good health – but if taken in excessive amounts that can be harmful.
On the Vitamin Trail
So where do you start if you want to make sure you're getting enough of the right vitamins? Firstly, take a look at your diet. When it comes to fruit and veg, it's a good idea to try to 'eat the rainbow' every day. Different coloured vegetables often pack a different vitamin punch. So try to include something green, something red, something orange or white at meals throughout the day (think lettuce, tomatoes, peppers and onions!)
Minimise alcohol and smoking – both habits that destroy nutrients in our bodies – and think about whether you have any particular health concerns – such as growing older, motherhood, dull skin, stiff joints and so on. Then you might want to consider how to take in more of the nutrients that might assist with that problem or life stage. If in doubt, always talk to a health professional, and remember to eat up all your greens!
You might also like...