Vitamins and Your Eyes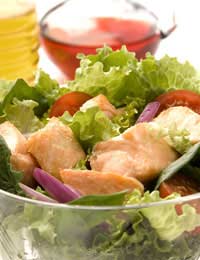 Making sure we eat sufficient quantities of important vitamins is essential for our physical health and fitness. But vitamins do much more than build strong muscles and give us shining hair and glowing skin. When it comes to really important functions like our eyesight eating up your vitamins is particularly important.
Your Eyesight and Antioxidants
The main vitamins to think about when it comes to supporting your vision and maintaining the health of your eyes, are the antioxidant vitamins – vitamin A, vitamin C and vitamin E. They're easy to remember because they're ACE! There is some scientific evidence to suggest that eating lots of antioxidants in our daily diet may help to protect our eyesight. That's because when our vision deteriorates, the damage is sometimes caused by free radicals in our body. Free radicals occur naturally in our bodies, and act to damage and destroy cells. They're thought to be at least partly to blame for everything from wrinkles to cancer. So it's no surprise that many scientists link them to failing eyesight too. Where antioxidants come in is that they destroy the free radicals. So by ensuring there is plenty of vitamin A, vitamin C and vitamin E in your diet, you're already going some way to protect the health of your eyes and your all-important vision.
Antioxidants and Age-Related Macular Degeneration
The leading cause of sight loss in older people in the western world is age-related macular degeneration – or AMD. It's a condition that affects the retina of the eye leading to impaired vision and loss of vision. Some scientists are beginning to think that antioxidant vitamins may help to protect against AMD. Once again, it's the way antioxidant vitamins destroy free radicals that is the potential cause of their success in keeping AMD at bay.
Vitamins and Eye Health
As with so many other aspects of our health and fitness, when it comes to eye health it is sadly only to obvious when people are not getting enough essential vitamins. Good nutrition and good vision go hand in hand. In developing countries around the world, children are prone to a disease called xerophthalmia. This debilitating illness causes childhood blindness and is caused by a simple lack of vitamin A. In more fortunate societies like ours, we don't think twice about getting sufficient quantities of vitamin A. It's found in liver, full fat dairy products, spinach, broccoli, tomato juice, peppers, watercress, mango, dried apricots, butternut squash, and sweet potatoes to name but a few! But it just goes to show how things we take for granted, like getting our fresh vegetables every day, support key functions in our bodies – like our precious eyesight.
Looking Out for Good Nutrition
The key thing to remember about vitamins and eyesight is that eating a healthy, balanced diet is an important part of looking after your eyes. Antioxidants are known to help us defend ourselves against many types of ailments and degeneration, so keeping a healthy intake of vitamin A, vitamin C and vitamin E should be top of your list.
You might also like...