What is an RDA?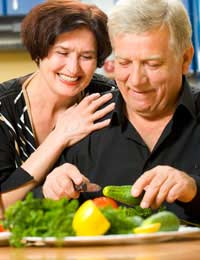 Whenever we read about vitamins or consider taking a vitamin supplement the term RDA crops up over and over again. So what does it stand for and what is its importance?
Recommended Daily Allowance
The phrase Recommended Daily Allowances, or RDA, refers to the amount of each vitamin that an individual should consume each day in order to stay fit, healthy and strong. The best way of doing this is to eat a balanced diet including all the important food groups. When reading about, or buying, vitamins, you might also come across terms like Tolerable Upper Limit. This is the highest amount of a vitamin you should consume each day. Eating or drinking more than the Tolerable Upper Limit of a vitamin may cause health problems.
Why you shouldn't exceed your RDA
If vitamins are good for us, you might think that more vitamins are even better. But that's not the case. The RDA provides us with scientists' best indication on how much of a vitamin we need for optimum health. Sometimes taking more than the RDA of a vitamin can cause the very health problems you're trying to prevent. For example, vitamin E is good for us. It's great for our skin and is an antioxidant, so it works to protect the cells in our bodies from damaging free radicals. But taking too much vitamin E can prevent your body from absorbing iron properly, resulting in anaemia and hair loss.
Your RDA of fat-soluble vitamins
What happens if you eat more than your RDA of a fat-soluble vitamin? Exceeding the RDA of some fat soluble vitamins, like vitamin A, can cause health issues. Vitamin A is stored in the liver, so regularly consuming far too much vitamin A can lead to liver problems. Don't panic though, this doesn't mean that just because you've eaten a lot of food containing vitamin A that you will immediately have problems. It's consistently taking more than the RDA of any one vitamin that should ideally be avoided.
Your RDA of water-soluble vitamins
Water soluble vitamins, like vitamin C, are not stored in the body, so taking higher quantities than necessary is not generally considered to be so risky. But water-soluble vitamins, as their name suggests, just dissolve in water and would be flushed out of your body in your urine if not required. So taking high doses of water-soluble vitamins is not generally thought to have any big health benefits.
How much of a particular supplement should you take?
Before you decide to take a vitamin supplement, remember to find out about its Recommended Daily Allowance (RDA). The European Union publishes guidelines on how much of any particular vitamin you need to eat in order to stay healthy. This means we know how much of a vitamin is good to take each day. Getting the right information is key, because there are many faddy diets and unproven theories around, encouraging us to eat huge quantities of individual vitamins. Remember not to exceed the RDA, as too much of some vitamins can damage your health, while too much of other vitamins is just a waste of money.
You might also like...
i think this website vas very good and showed me tings
sanni
- 2-Feb-12 @ 12:08 PM